Meet the 2021 #BeInclusive EU Sport Awards Finalists – Judo for Peace
The Judo for Peace project is a Hungarian finalist for the 'Breaking Barriers' category of the 2021 #BeInclusive EU Sport Awards. It has developed a judo programme for displaced people who were forcibly transferred following a conflict or who left their home country for economic or political reasons.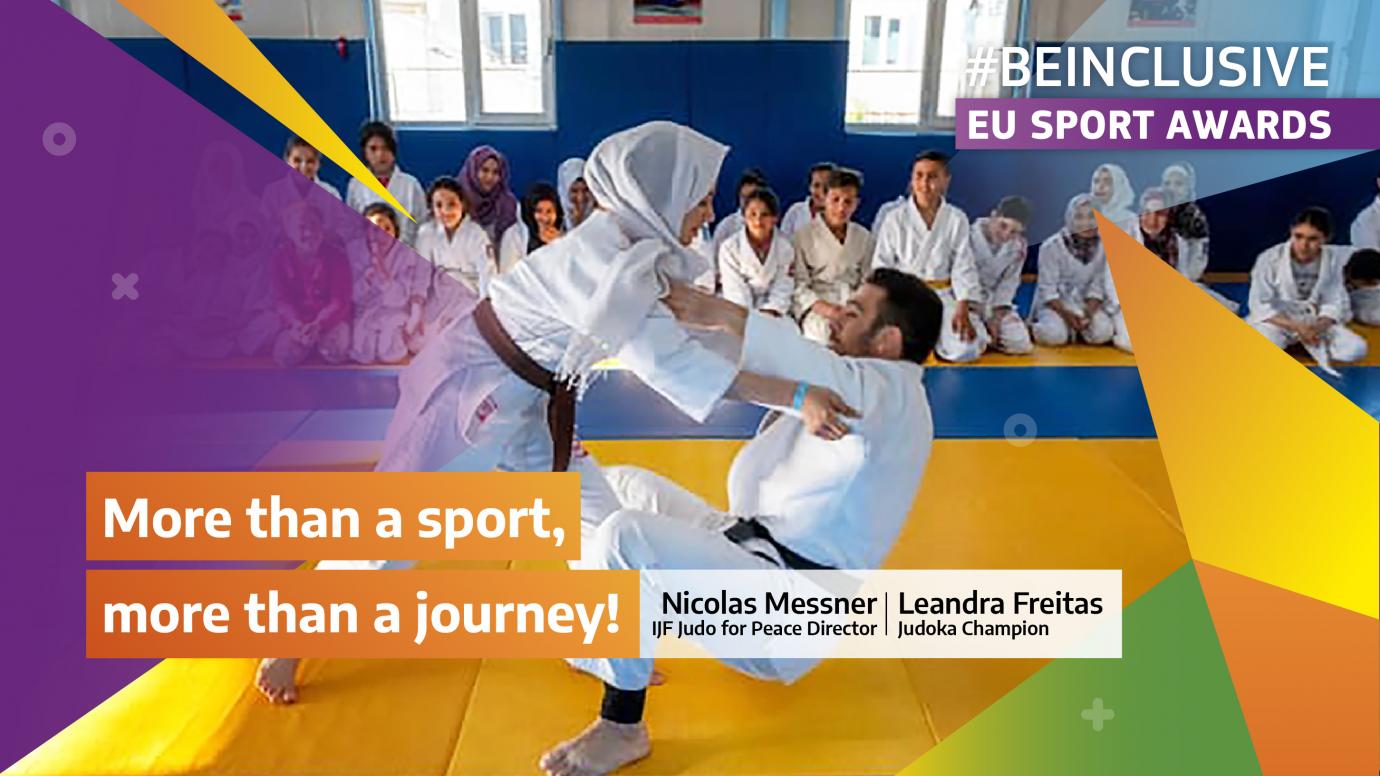 Starting from around the age of 3 up to adulthood, Judo for Peace invites everyone onto the tatami. Irrespective of physical or mental (dis-)abilities, all are accepted in the dojo.
Judo for Peace Director Nicolas Messner and International Judo Federation member Leandra Freitas shared their experience on the Judo for Peace philosophy by emphasising how the programme goes beyond exercise. Judo is described as 'more than just a sport', and this means that the initiative is founded upon a moral code with universal values. From mutual respect to friendship, Judo for Peace provides hope and support to the refugee community worldwide.
A journey of resilience
Starting with only 50 children, the Judo for Peace Project began in 2015 on the border of Turkey and Syria in an area of active conflict. Since 2015, the initiative has grown to the point that, in April 2022, a single tournament in Kilis, a Turkish town with a large Syrian refugee population, involved around 450 participants.
Messner and Freitas, along with 15 armed guards, travel annually to judo clubs in Kilis. Turkey and Syria might have differing culture, language, and religious ideologies, but Judo for Peace aims to bridge those differences through a common interest: judo. According to Messner, the beautiful thing about judo is that 'on the tatami, the children don't care if they are Syrian or Turkish, everyone forgets their differences.'
There are things that are risky, but if it results in a better world, maybe it's worth that risk.
The children struggle with malnutrition, sickness from unclean water, the horrors of war, and poverty at home, yet they still find the strength within themselves to laugh and participate in judo as often as they can. Some dream of becoming champions or coaches in the future; rightly so, as their level of skill is impressive! After visiting Kilis in 2021, Freitas remarked 'some [judoka] were so small, but they could already perform tai-otoshi (one of judo's basic throws) better than me.'
The refugee crisis grows with every war and conflict. With the support of the Turkish Judo Federation, Judo for Peace has developed programmes in refugee camps in Zambia, Malawi, Burundi, Rwanda and beyond. These don't just provide equipment and judo coaches; Judo For Peace helps organise logistical, financial and humanitarian support to create a more prosperous future for these vulnerable people.
Helping Ukrainian refugees and looking to the future
Most recently, Judo for Peace launched initiatives to assist Ukrainian refugees through judo clubs in Poland, Romania, and Moldova. Their new platform, dubbed 'No Borders', means that any club can become part of this movement and an official club for the programme.
Future endeavours for Judo for Peace include a week-long judo competition festival in Turkey and Syria where competitors, their families and judo lovers can exchange culture, meet world class judo champions, and improve their judo skills.