Meet the 2021 #BeInclusive EU Sport Awards Finalists – Handy Cycling Marathon
The Handy Cycling Marathon project is a Czech finalist for the 'Celebrating Diversity' category of the 2021 #BeInclusive EU Sport Awards. It is an annual cycling marathon stretching all around Czechia.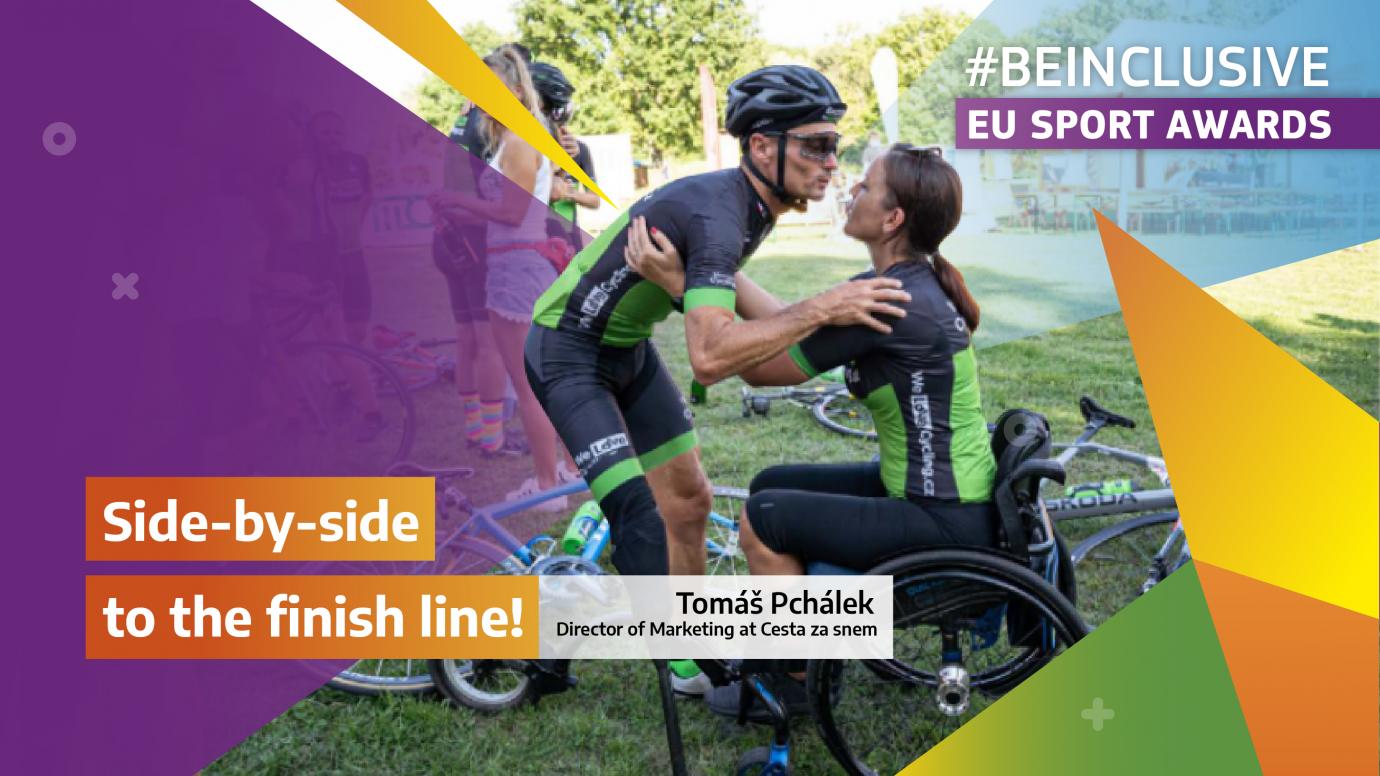 The Metrostav Handy Cycling Marathon is organised by Cesta za snem, an organisation that seeks to break the taboos around disability. This project aims to instil the importance of cycling and physical activities as a joyful and instructive experience as opposed to fighting for a position or award.
It shows that disabilities should not prevent people from being part of a cycling team and achieving their goals. This applies to a challenging race as in everyday life.
Tomáš Pchálek, Executive Director of Marketing at Cesta za snem, describes how
…this is not a race where the goal is to win a gold medal. Everyone who reaches the finish line receives the same medal.
Instead, the project focuses on overcoming obstacles, working as a team and bringing people together, even in the most difficult conditions.
According to Pchálek, the annual cycling event allows cyclists to 'experience something money cannot buy' and realise that 'no one has less value just because they have to overcome limitations every day.'
Non-stop perseverance
Over five days and five nights and across 2,222 km of terrain, cyclists in 4-member or 8-member teams pedal through all 14 regions of the Czechia. Teams include men and women, young and old, amateurs and professionals. There must be at least one cyclist with a disability in each team.
The Metrostav Handy Cycling Marathon is for anyone who loves cycling and sports, but also for people who want to change something in their lives and put their bodies and minds to the test. In the teams, wheelchair users ride on hand bikes, the visually impaired on tandem bicycles, and people with cerebral palsy on tricycles or recumbent bikes, along with people without specific restrictions. Embodying the spirit of inclusivity through sports, this marathon race ensures that the entire country is reminded of the key idea that sport is open to everyone.
'A healthy spirit in a healthy body'
This year was the tenth annual Handy Cycling Marathon. On the occasion of this anniversary, the project launched a web application called 'Czechia in Motion'. This is a platform that works as a shared diary of sports activity from people all around the Czech Republic, fuelling their long-term motivation for active living in society. According to the Handy Cycling Marathon project, everyone needs to be mobile in order to thrive, and mobility is closely linked to sports.