Meet the 2021 #BeInclusive EU Sport Awards Finalists – The Movement of The Third Age of Serbia
The finalist for the 'Inspiring Change' category of the 2021 #BeInclusive awards is an award-winning initiative that focuses on the sport, health and cultural activities of pensioners and elderly people over 60 in the Republic of Serbia.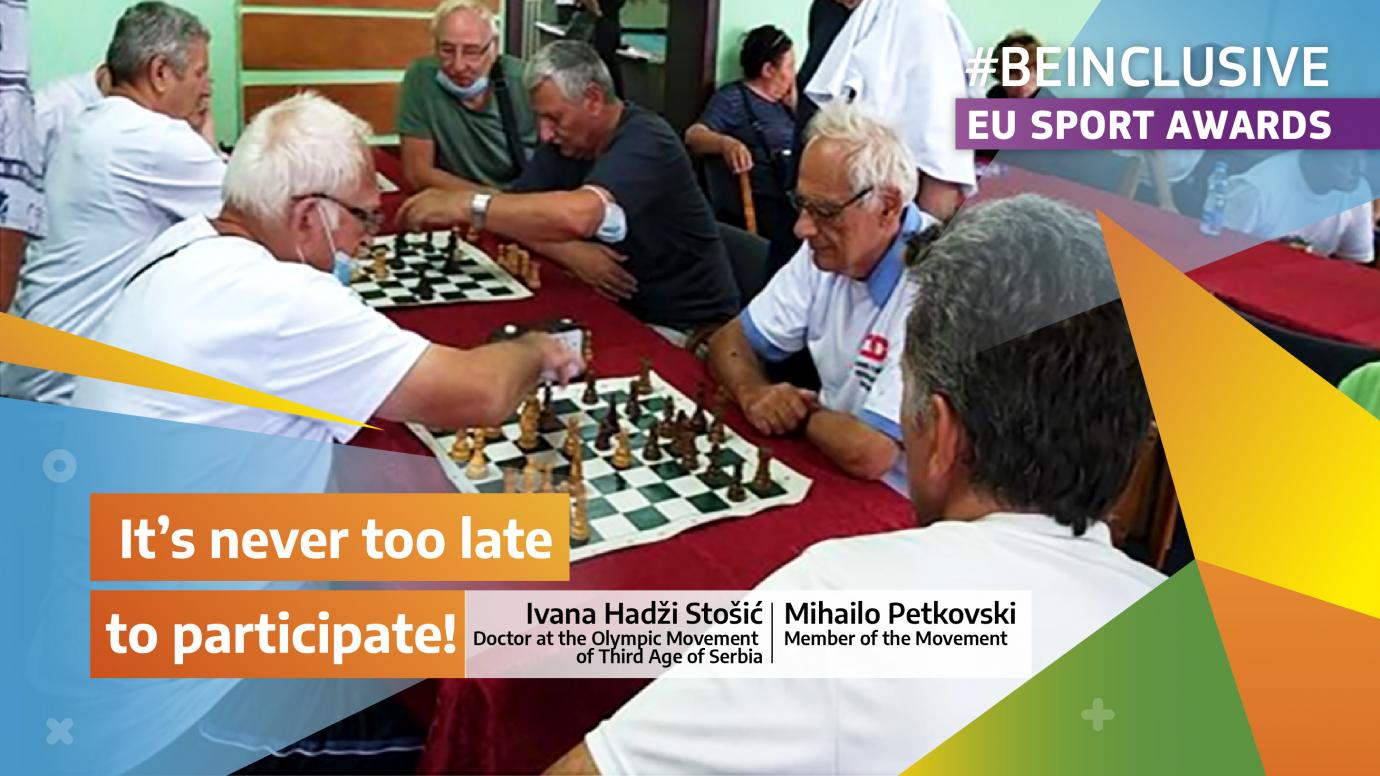 Покрет трећег доба Србије, translated as The Movement of the Third Age of Serbia , is an independent, voluntary, non-profit, and social-humanitarian organisation. It has shown its capability to make a difference in the lives of marginalised, ageing communities through its annual organisation of sporting events.
Uniting generations and promoting an active lifestyle among the elderly
Long-time member Mihailo Petkovski talked about the Movement's concrete actions to reduce self-isolation, loneliness, and depression in the over 2 million older inhabitants of Serbia, including people with disabilities. From health check-ups to literary gatherings and sports competitions, the Movement wants to unite generations and promote active contribution in old age.
Our project is the best example that the size, or importance of the country you come from, is not the most important factor, but the activity you are engaged in and your values.
Reducing discrimination on the basis of age is a matter of extreme importance in a world where the percentage of older generations continues to grow. According to the UN Global Report, almost every third person reported discrimination due to their age. By bridging the gap between generations, the TDS Movement aims to show the value of older people's life experiences and cultural knowledge.
Older populations are also more likely to experience negative physical and mental impacts from pandemic measures. One of the most successful ways to counteract these negative consequences is to stay active. Among the core activities of the Movement of the Third Age of Serbia is the annual Olympic event. Since 2008, the Olympia and mini-Olympiads have gathered more than 11 000 direct participants and even more spectators.
Participants compete in seven sports disciples: basketball, football, darts, chess, speed walking, fishing and archery. These Olympics help integrate the elderly population into society, promote healthy habits and ageing, reinforce intergenerational cooperation, and strengthen the self-confidence of older people.
Growing in impact
In the near future the TDS Movement is intent on forming a European Association of its organisation to widen their efforts beyond national borders. Across Europe, the TDS Movement aims to combat stereotypes and promote a higher quality of life for everyone, regardless of age.